Background
inspire confidence, increase safety and empower coaches to elevate teams and players to their upmost potential
atavius is an organization focused on providing the coaching and performance resources to players and teams across both rugby and football, at every level including youth, collegiate and the NFL. Their primary mission is to inspire confidence, increase safety and empower coaches to elevate teams and players to their upmost potential.
As a long-time, established and reputable company in the sport of rugby, atavius eventually discovered the safety benefits of introducing a rugby-style tackle into the game of football.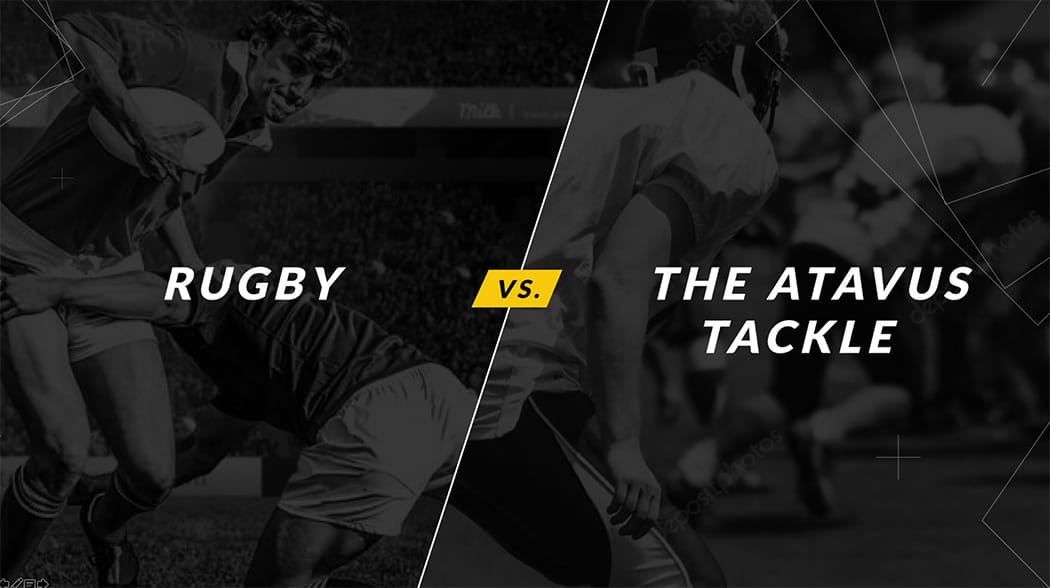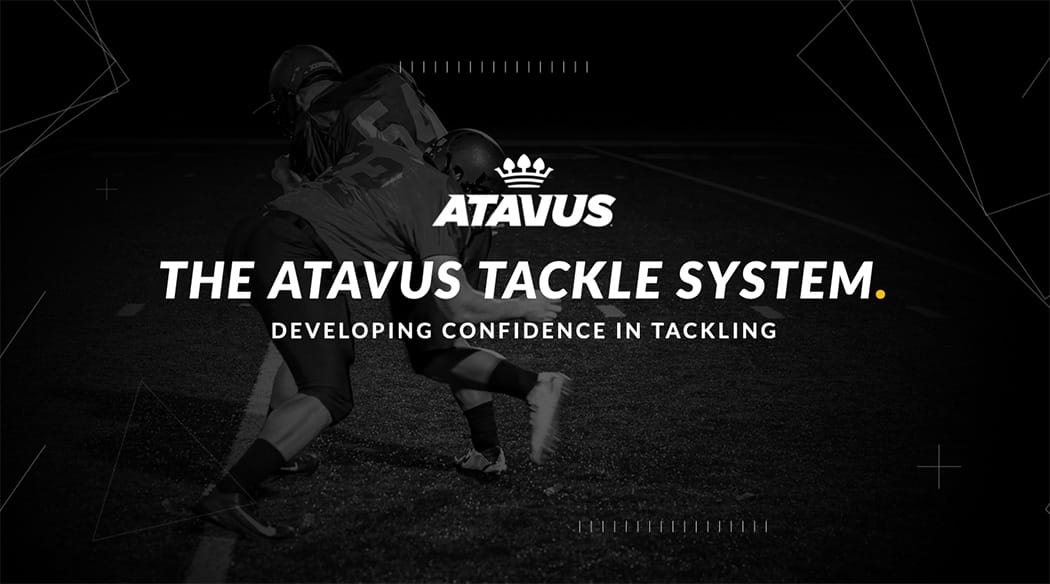 With top-tier coaching staff, pro-level athletes and a phenomenal leadership team, atavius began empowering youth, high-school, collegiate and NFL coaches to analyze, monitor and improve their defensive performance. To make this possible, we offered a number of digital resources focused primarily on analytics and education.
Before my time at atavius, they developed a proprietary game-film / practice-film analysis tool and dashboard for coaches to see how well their team performed in any given week. It included a number of reporting tools to bring a modern day analytics platform to dated methods of coaching, relying solely on sitting in front of hours of game film every week.
The atavius products allowed programs to bring their performance to a new level, clearly illustrating what areas to improve, what areas to improve on and the necessary resources to fix it quickly and efficiently. The analysis tool was focused primarily on the collegiate and pro-market with the high-price tag and steep learning curve. Adoption with this product was challenging - coaches know what has worked in decades prior with the successful programs relying on the tried-and-true coaching methods.
Having never relied on such tools in the past, we knew we had to build confidence in using modern tools to improve the game. The next logical step in the business was to develop players from the very introductory levels of the game to become the future thought leaders making long-term market adoption easier.
To bring the atavius resources into the youth and high-school levels, we needed to build and adapt a new product that met high-school coaches where they needed it most.
Challenge / Problem
High-school program budgets aren't on the same level of their collegiate and NFL counterparts. Because of this, we had to adapt our current product offerings to meet this need and empower coaches at the lower levels of coaching. We found that using a rugby-style tackle in football is effective in mitigating injury and reducing yards after contact. Our resources were to provide them a learning management system with custom made video content that brought tackling education to the field increasing both performance and player safety.
We eventually partnered with the state of Texas to bring this education system to every high-school football coach in the state, totaling over 23,000 coaches. While our team worked hard landing this partnership, we began developing this comprehensive learning management system for coaches to log in and work through a progression of learning content to better understand how to bring this technique to the field. These coaches in the state of Texas would be the earliest adopters of this program after completing an in-person certification test on the tackling principles presented during the required education seminar.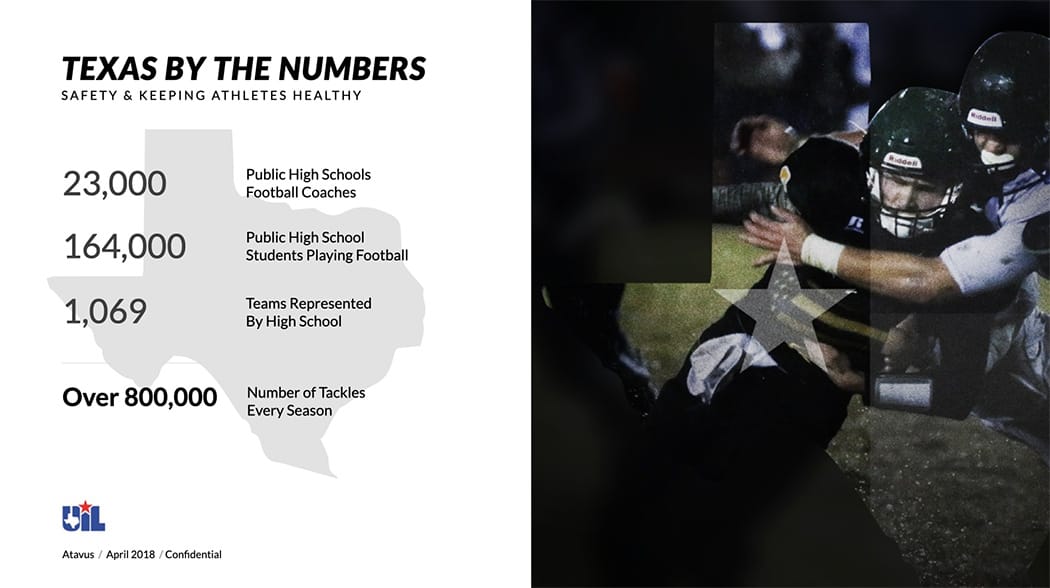 Research
Determining the right Market Fit
The first part of building out our high-school product offering was really understanding our target demographic and what they need most in this tool, the right price point and features. Throughout this project, I worked alongside our VP of Product to really lock-in on these users, better understand the business requirements and how to build out a product that is well informed, effective at educating coaches and delightful to use.
We focused heavily in the research and user experience phase, working out a number of user flow diagrams as we began to understand more about this coaching event that would unlock the product to the Texas coaches.
After creating a mutual understanding between members of the team, we slowly worked these user flows into eventual wireframes, sitemaps, user stories, functional and non-functional requirements and wireflows.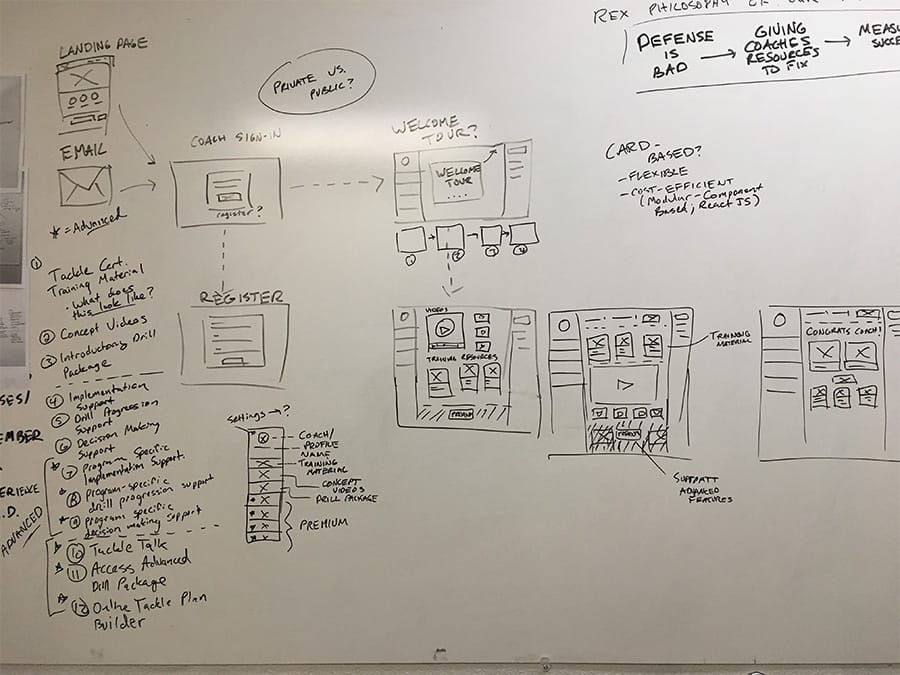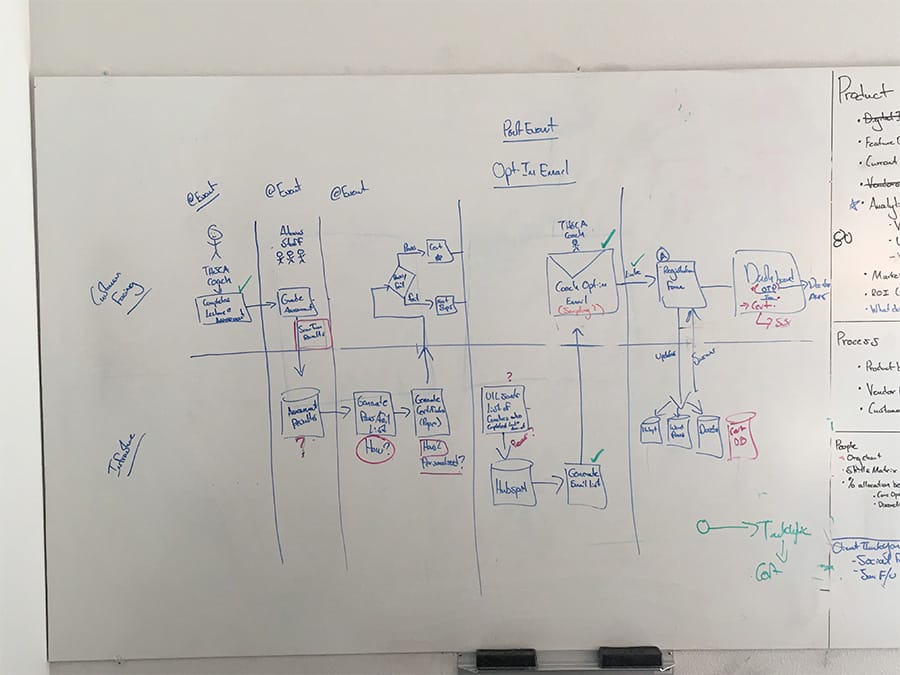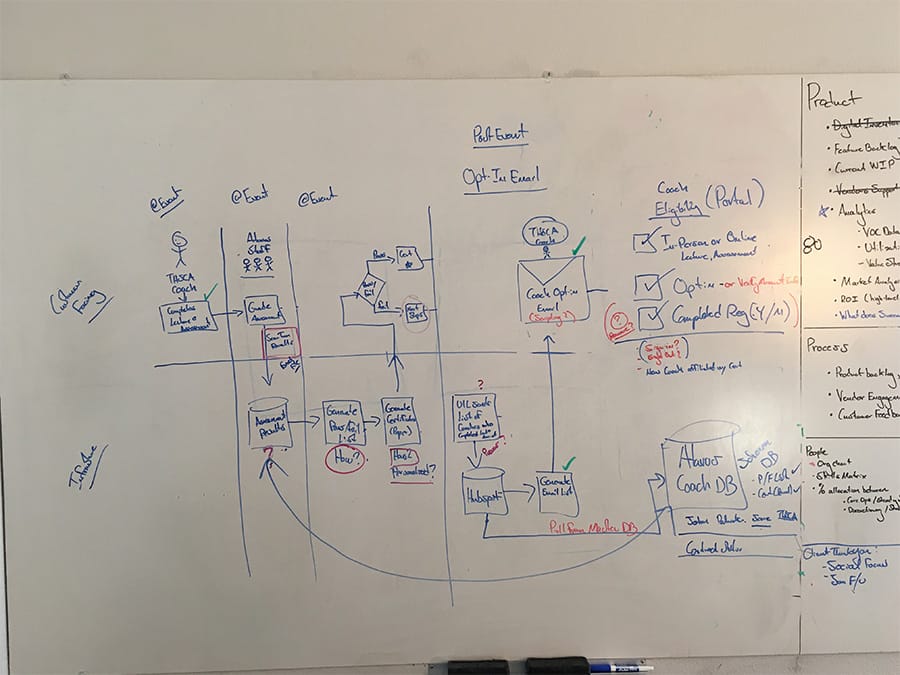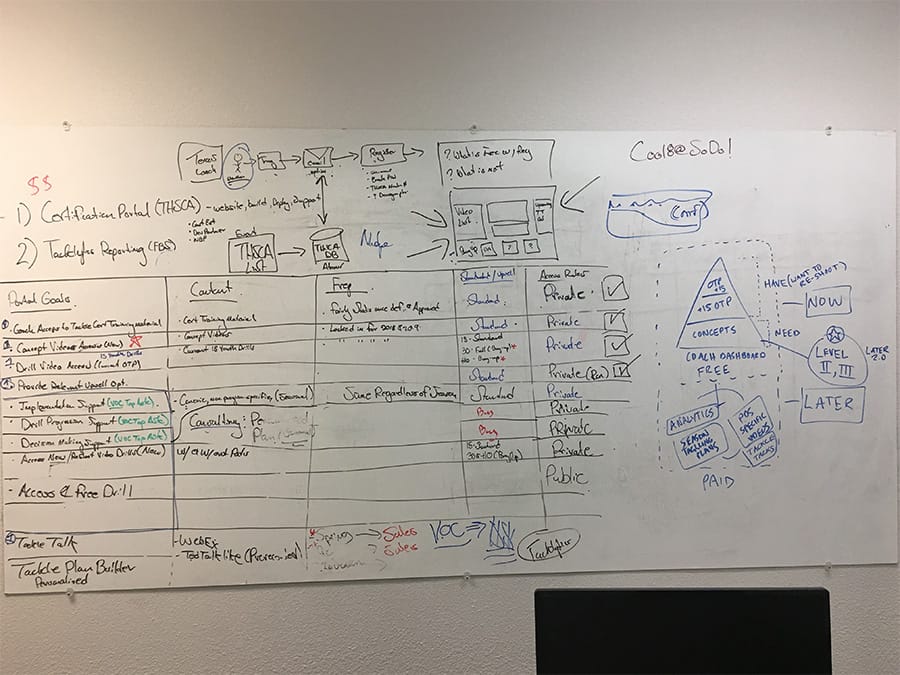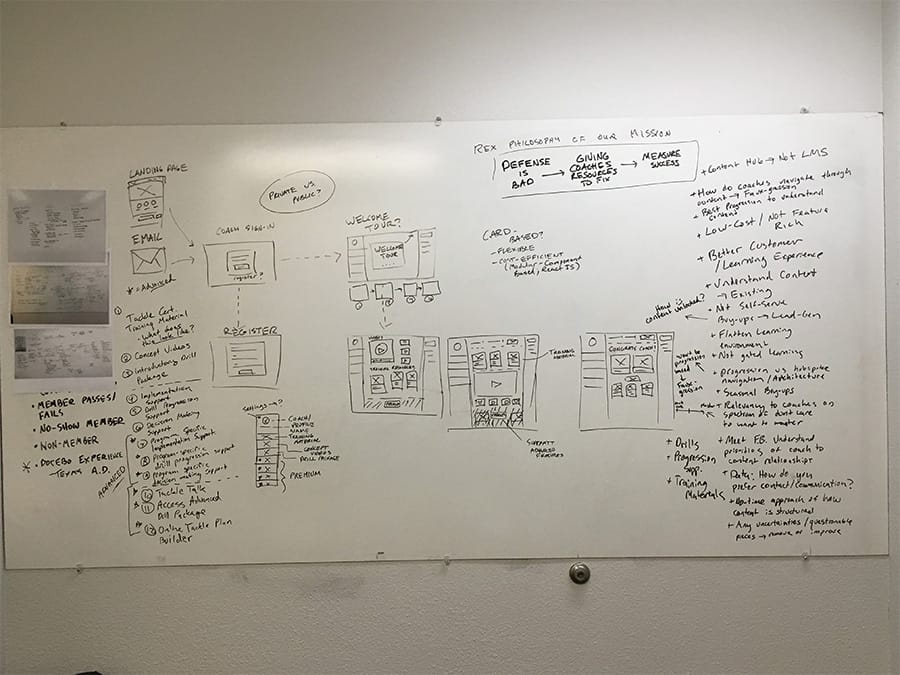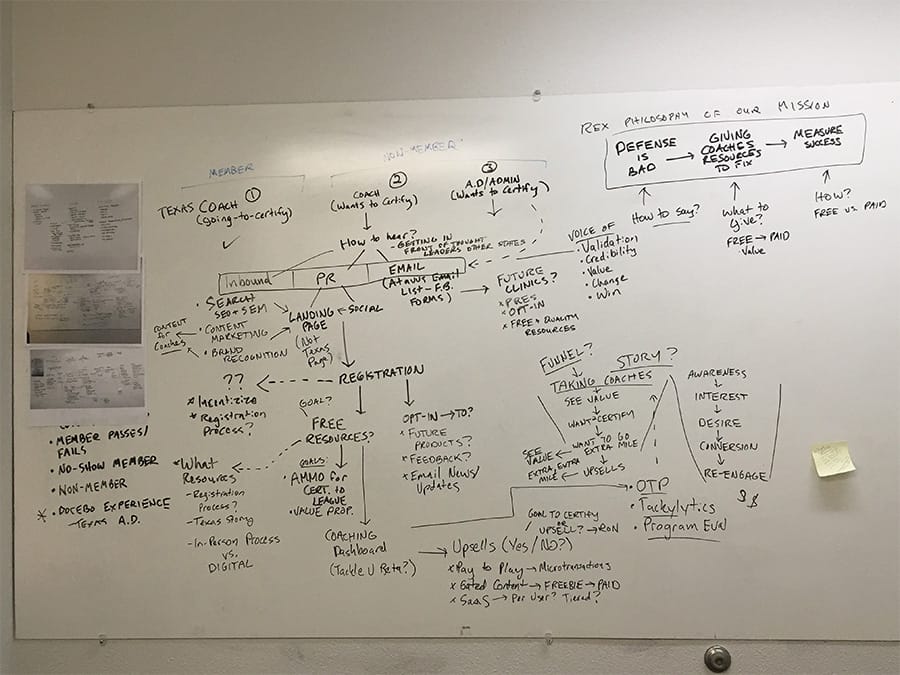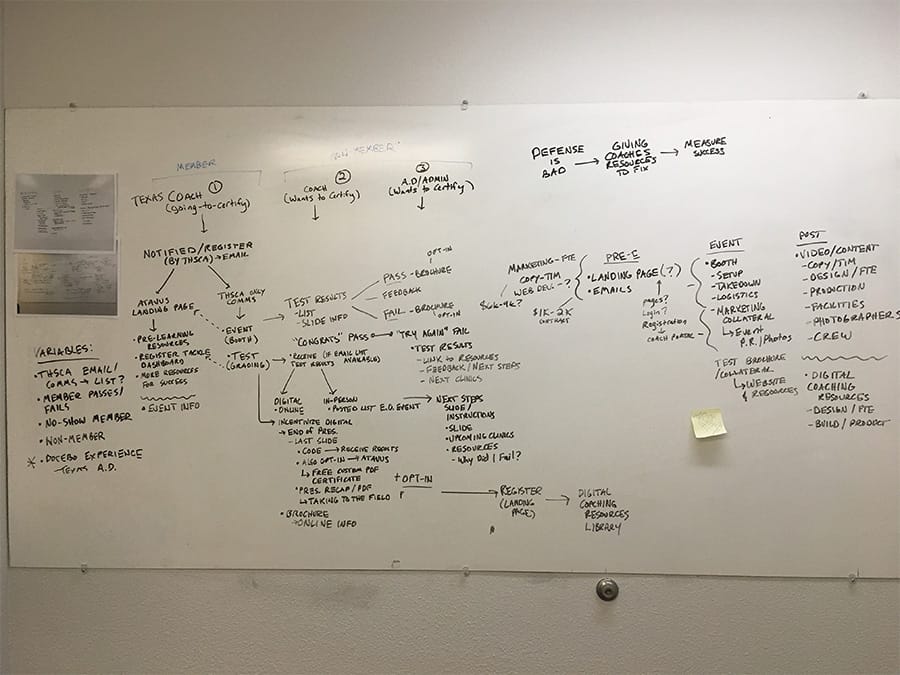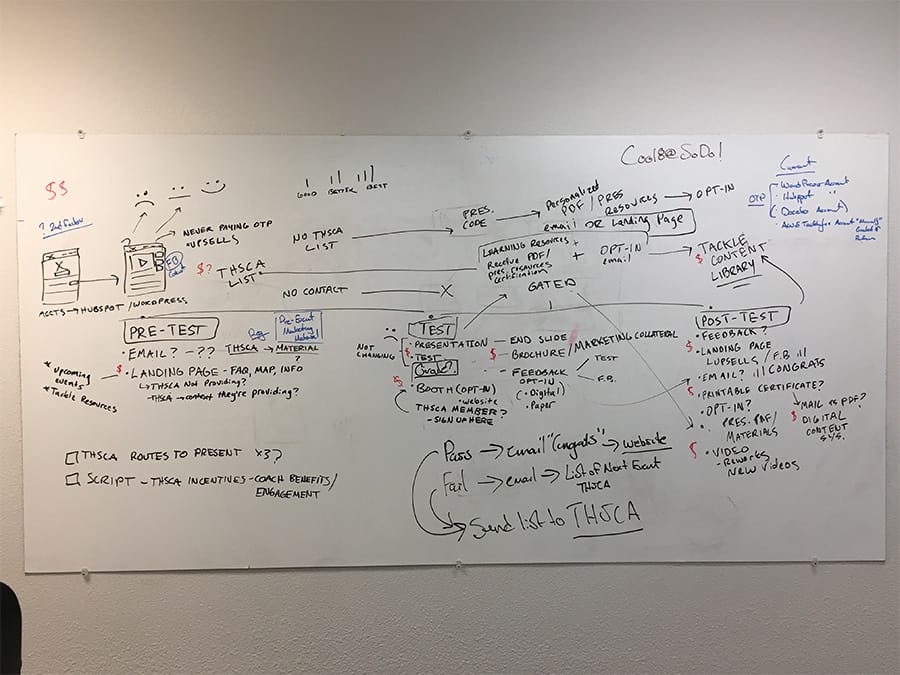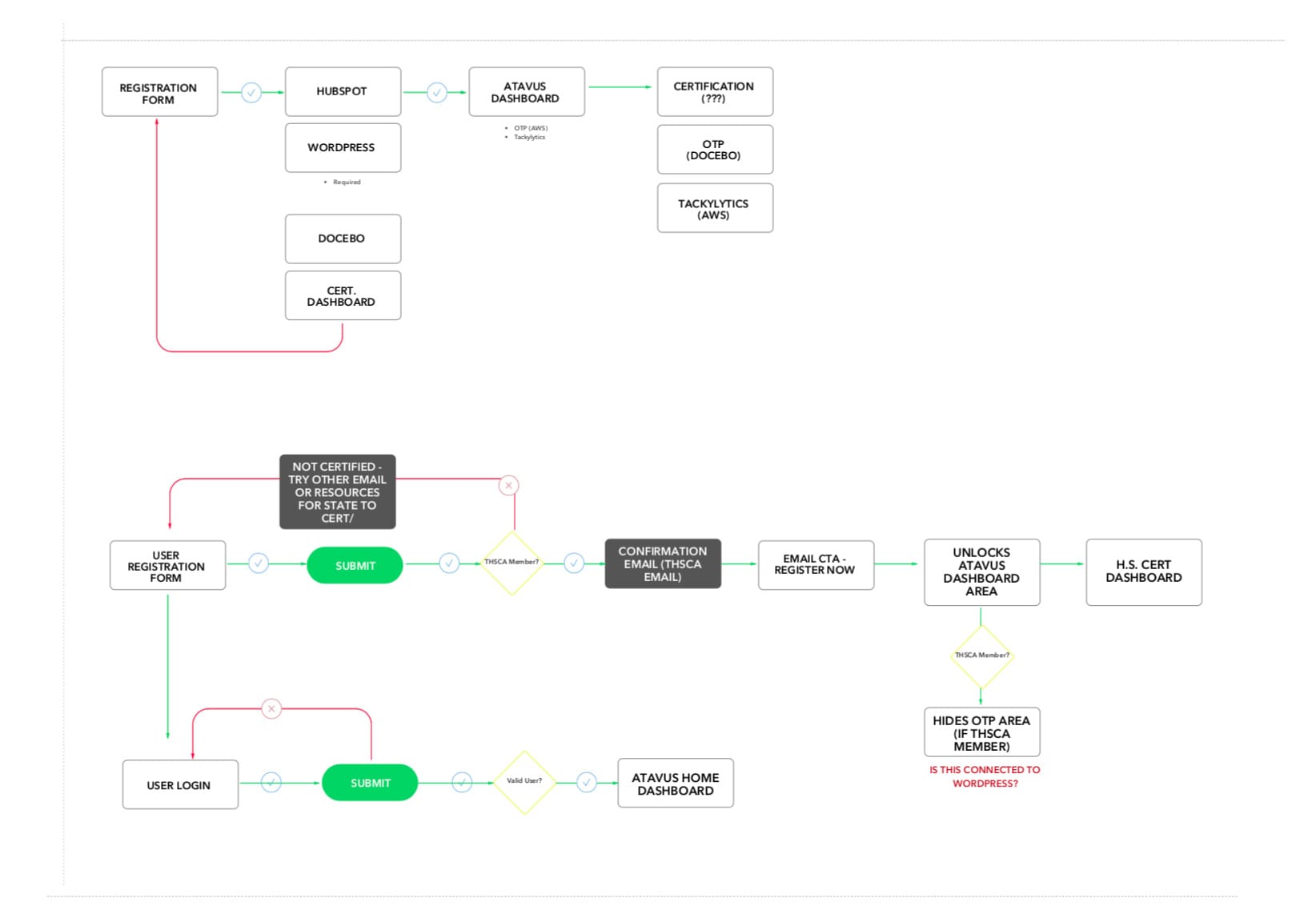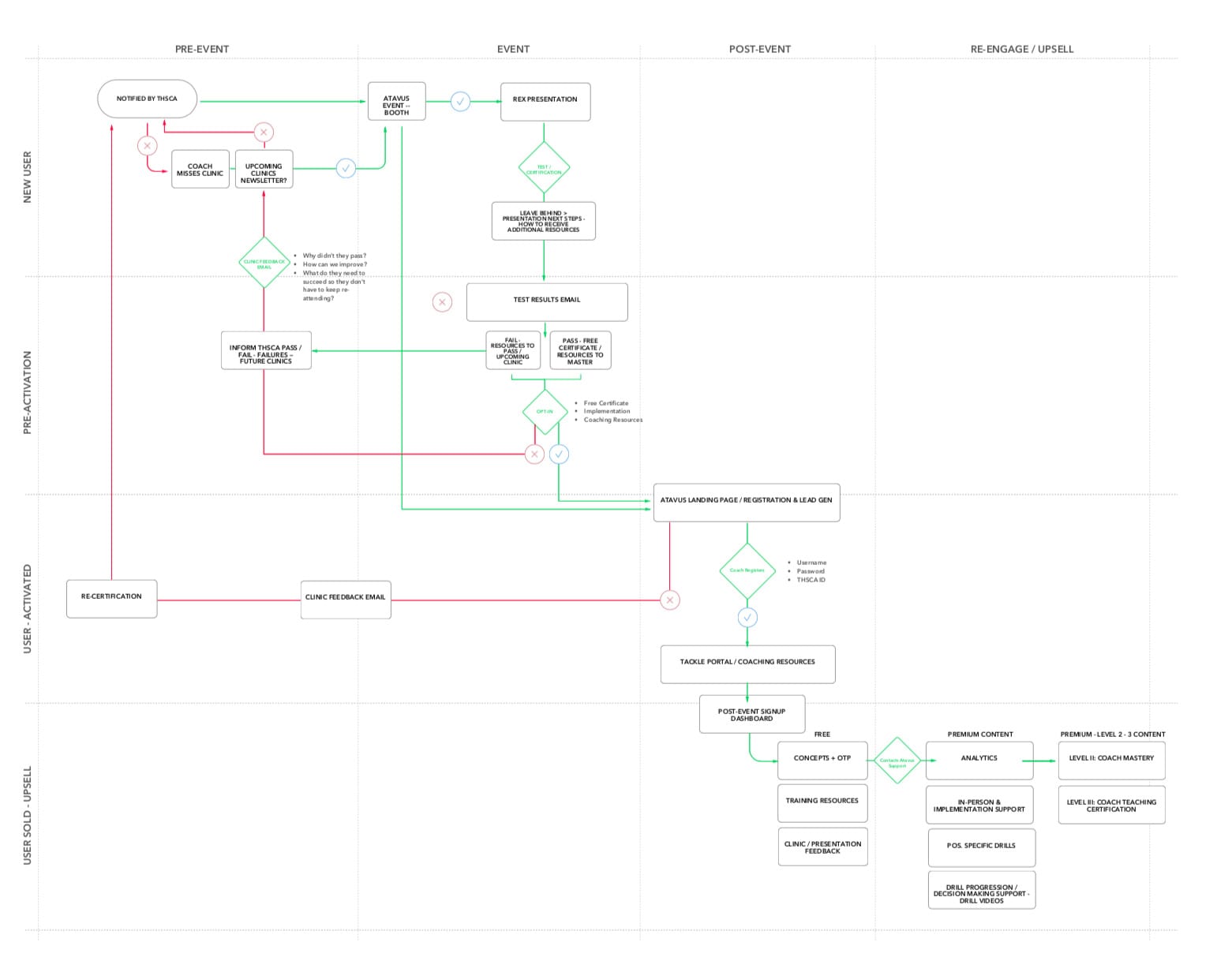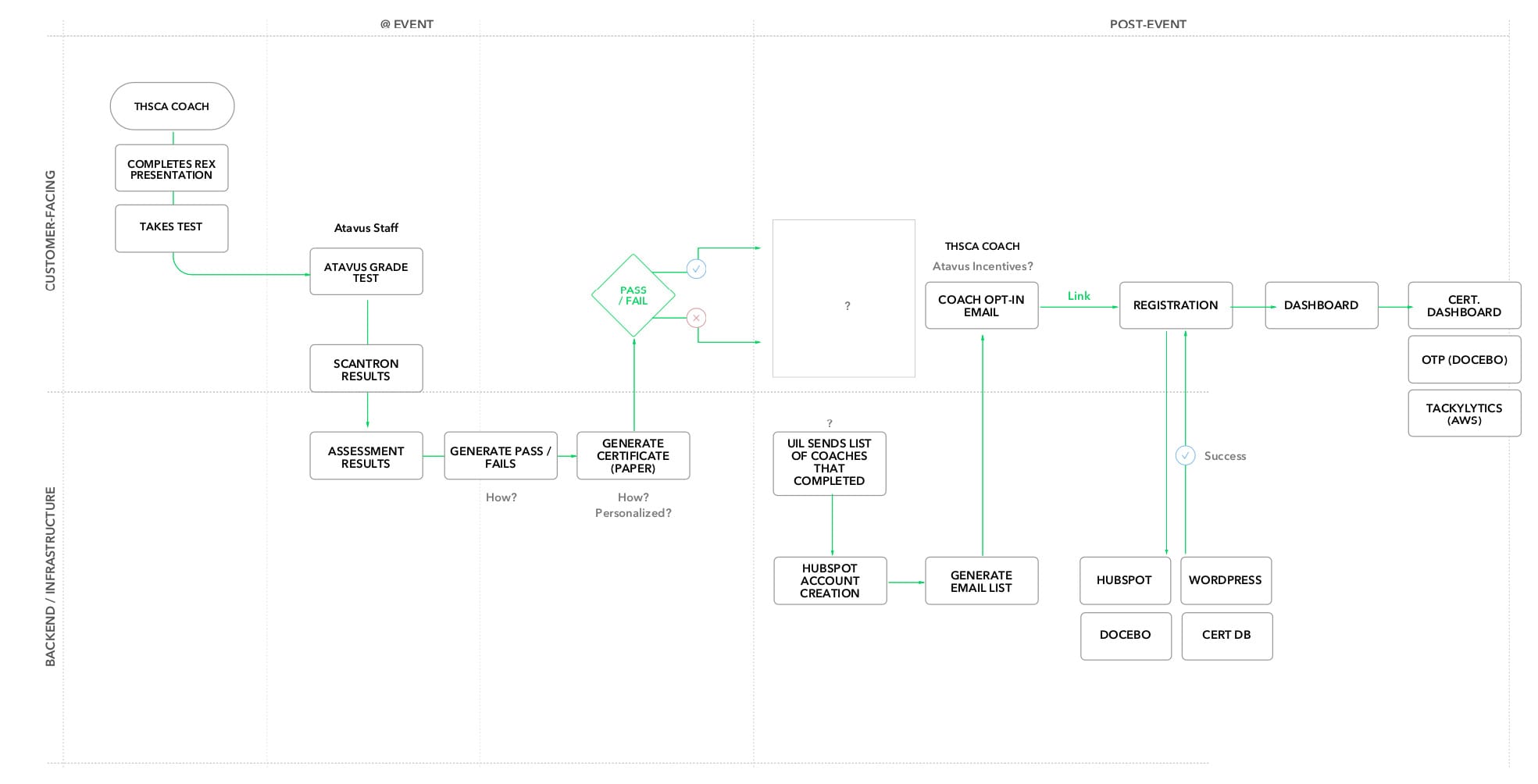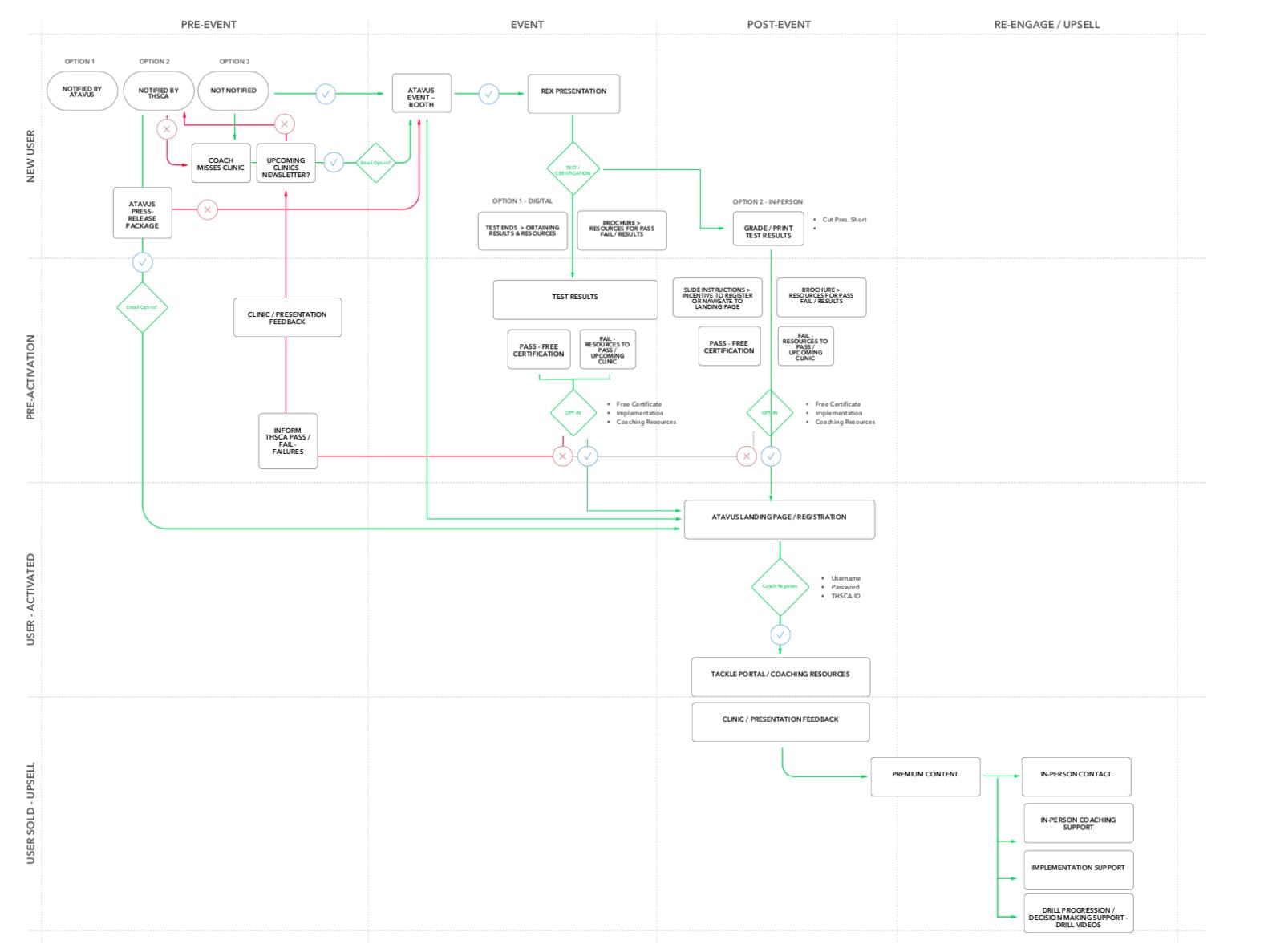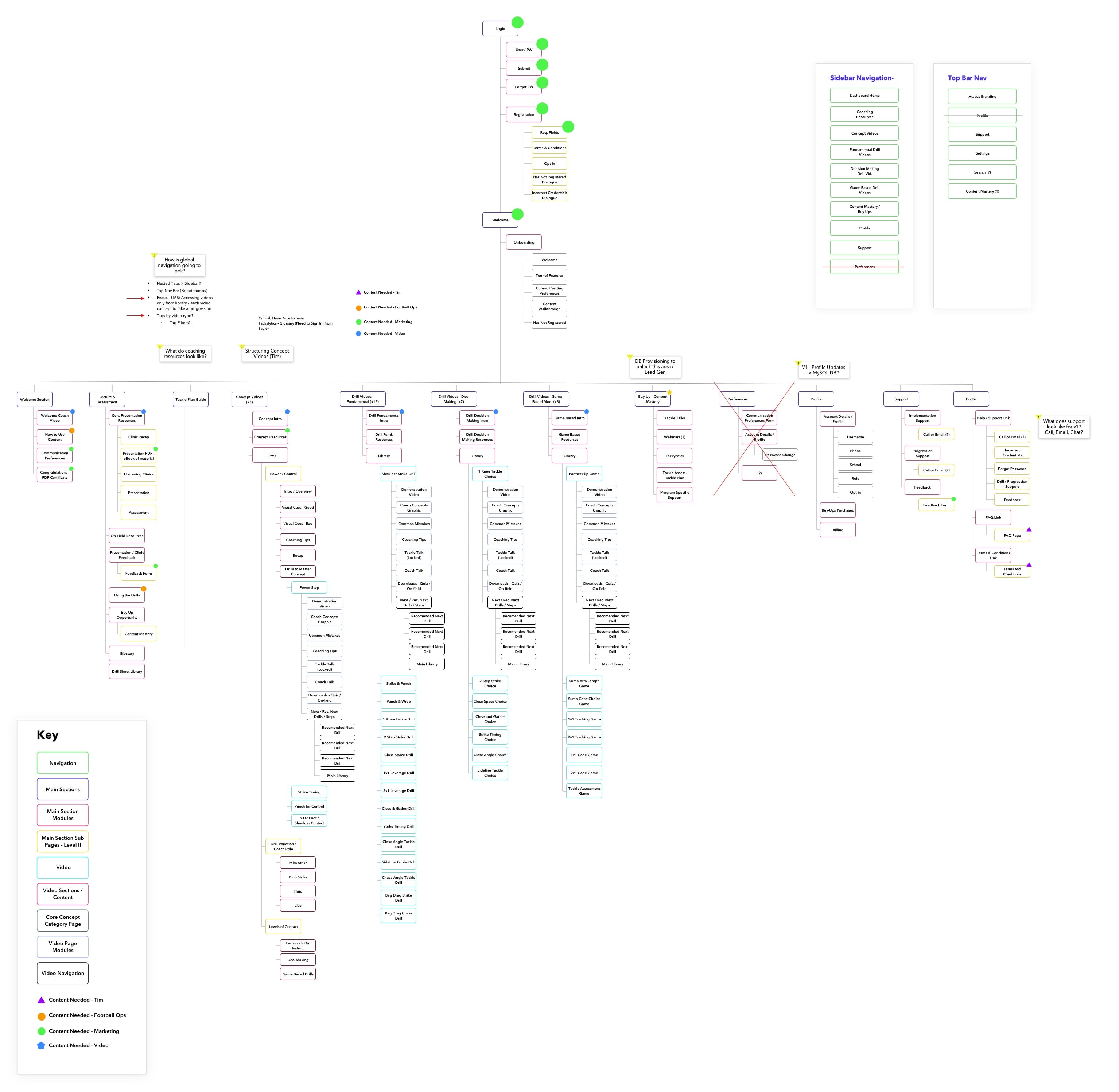 Planning
Wireframes, user flows, sketches, whiteboarding sessions
Wireframes and early-stage planning sessions proved invaluable to validate we were headed in the right direction from a user and client perspective. During this planning phase, we started involving our development partners in these planning sessions to provide a systems architecture and technical proposal as to how we could move forward with building out the product within tight timeline of 8-weeks.
It's always challenging to understand where UX and design can fit into the sprint cycle. From a lean UX perspective, we knew we didn't have enough time to constantly iterate and validate assumptions with rough wireframes and user feedback. We were operating largely off assumption in this blue-ocean territory, choosing to closely monitor the analytics during this initial release with Texas coaches and iterate later.
Our primary reference guides were our developed user personas as well as some detailed competitive analysis. We were able to quickly define the acceptance criteria and the definition of done before heading into the design and development phases.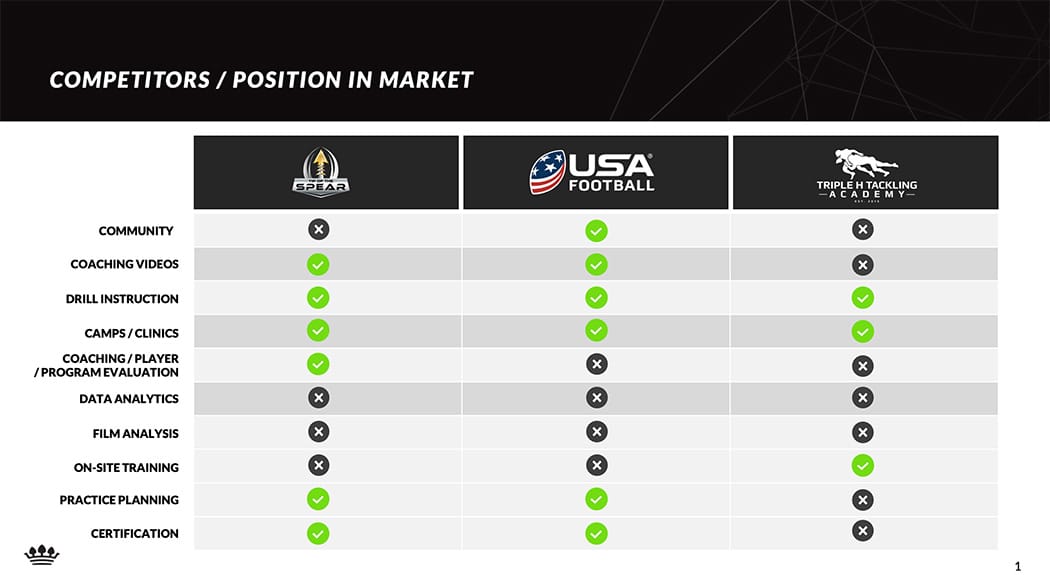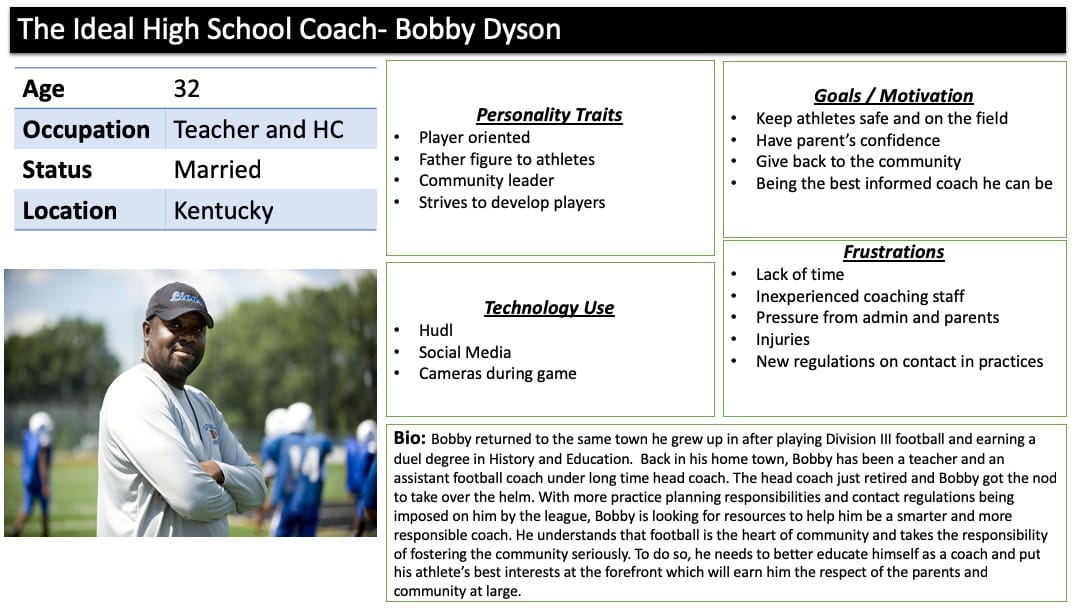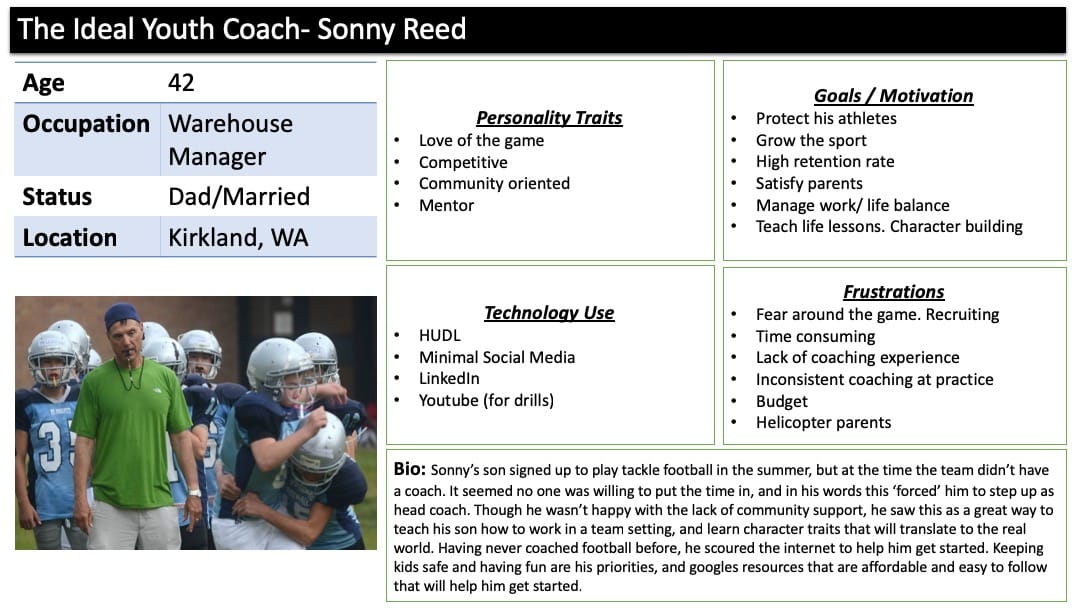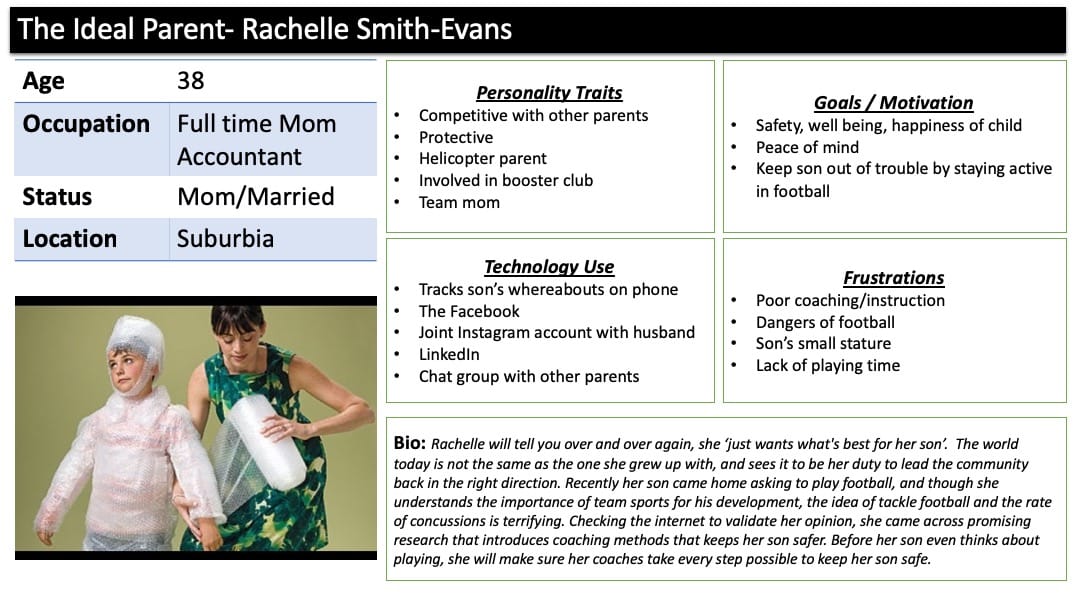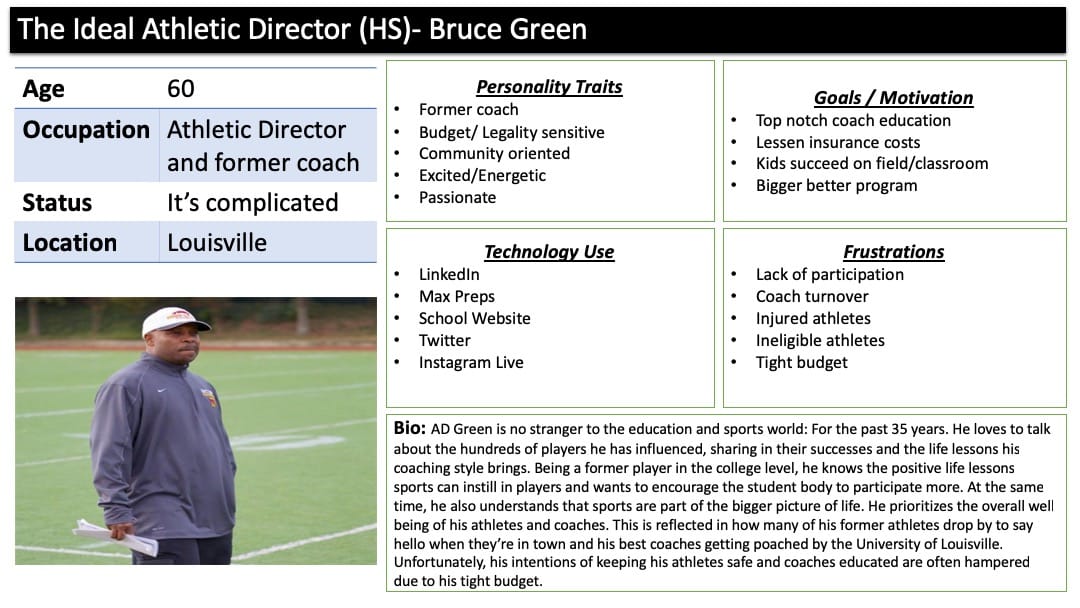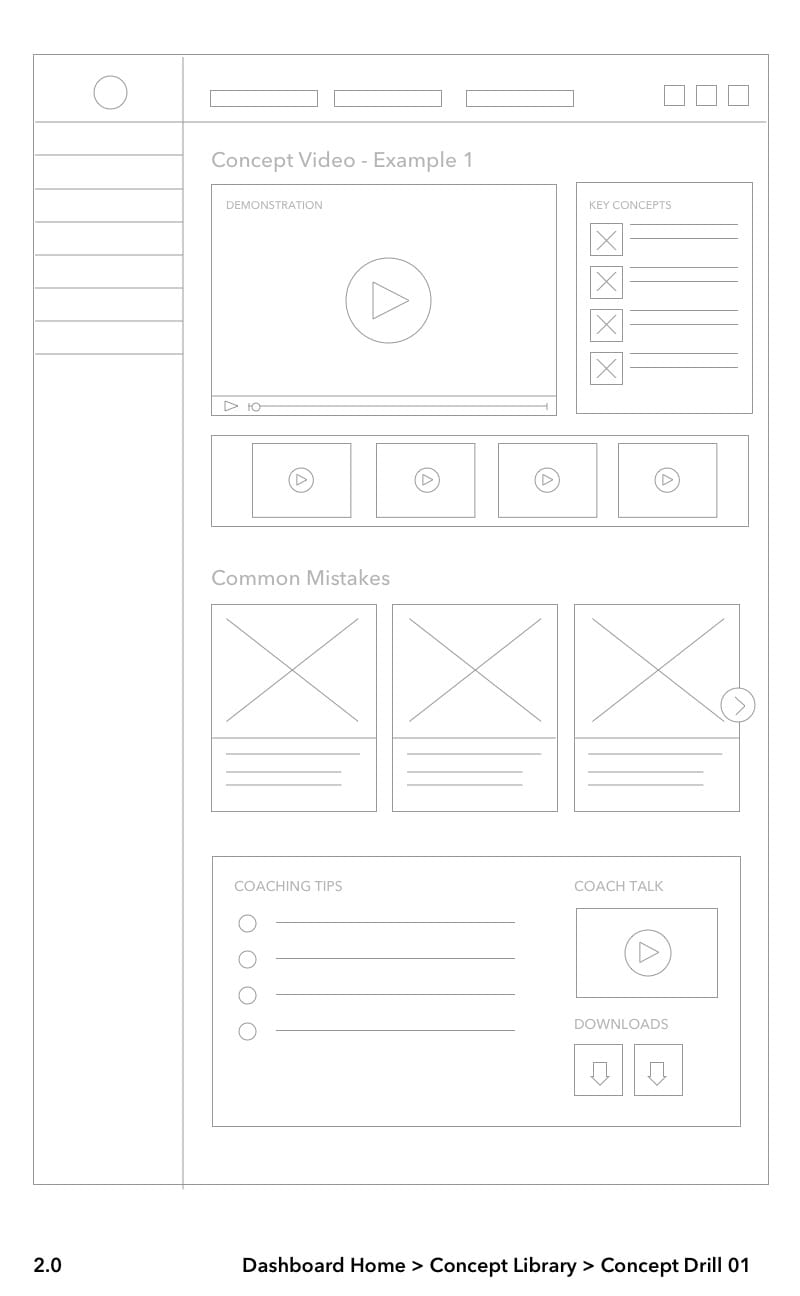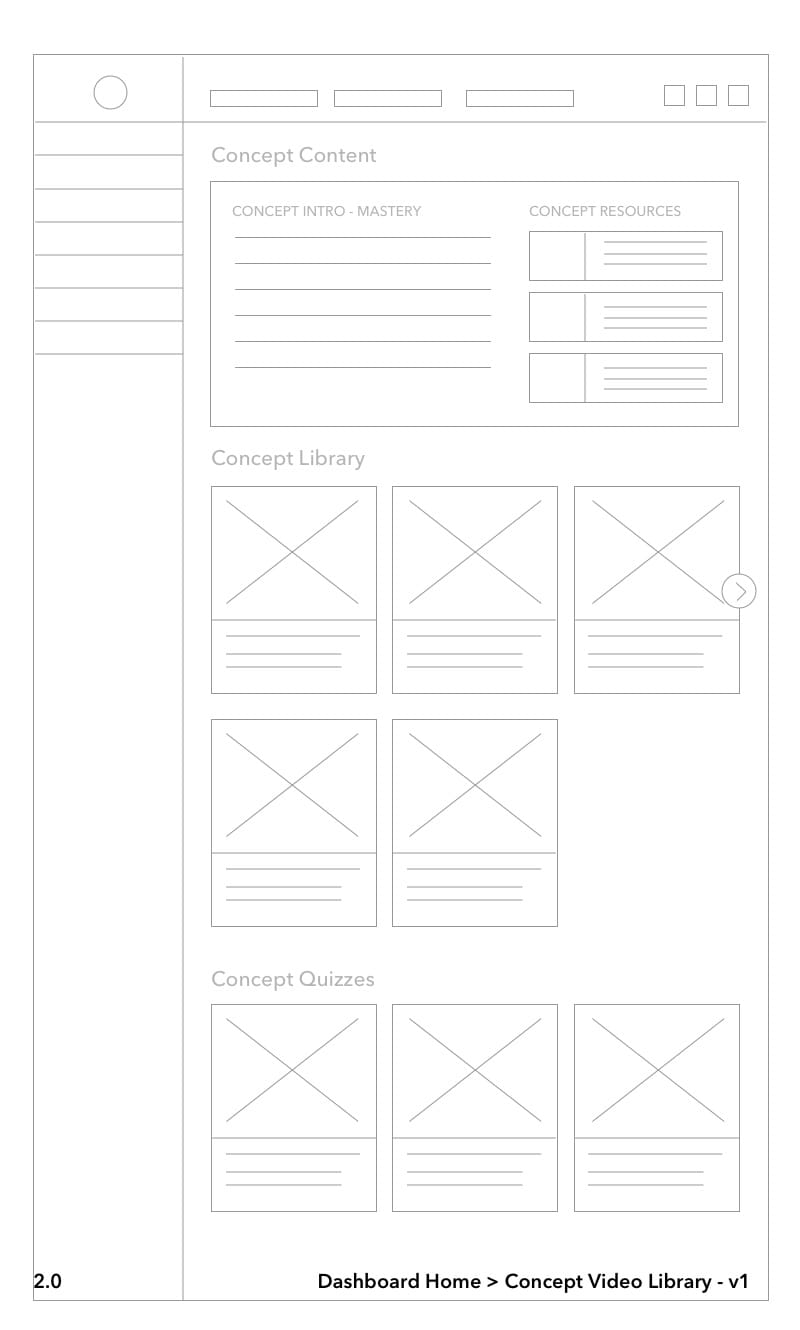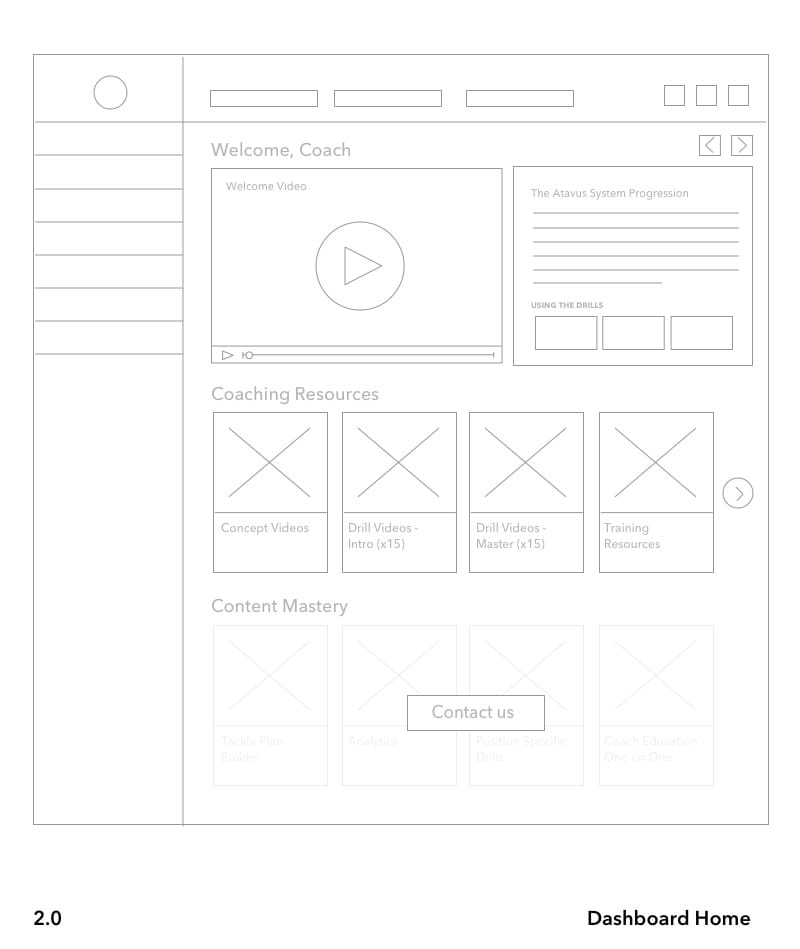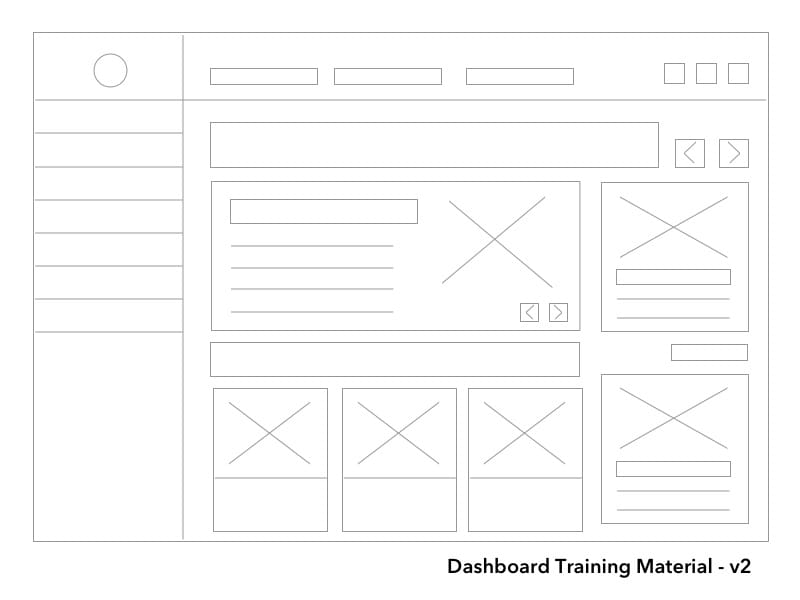 Explorations
Early design iterations
The early design iterations offered an early glimpse into what was to become the dashboard, allowing us validate our assumptions and feature set amongst product ownership, development and design. This allowed us to move efficiently from pre-planning into UX and eventual UI explorations. The comps we designed were largely unchanged from the first iteration into the final designs. The most challenging pieces were grasping our content team's capabilities to deliver and what to cut back on to meet our deadline, how to handle the monetization strategy and pieces, and how we would unlock those functionalities without a dedicate e-commerce solution in the phase 1 product alpha.
Another interesting piece to this product was how exactly users would enter the system. It would largely mimic an enterprise software model, rather than a B2C product where users could pay off the shelf and enter the platform. Our model was based on the premise of passing an in-person certification exam that would grant access to the system.
The foundation in charge of the event sponsorship did not want us directly promoting the platform, presenting a unique challenge with our user flows. Coaches would enter the program only after successfully passing an in-person exam. Receiving access based on the exam results relied solely on giving users a link to check scores, entering them into a funnel that would include a link to master the material by completing the dashboard content.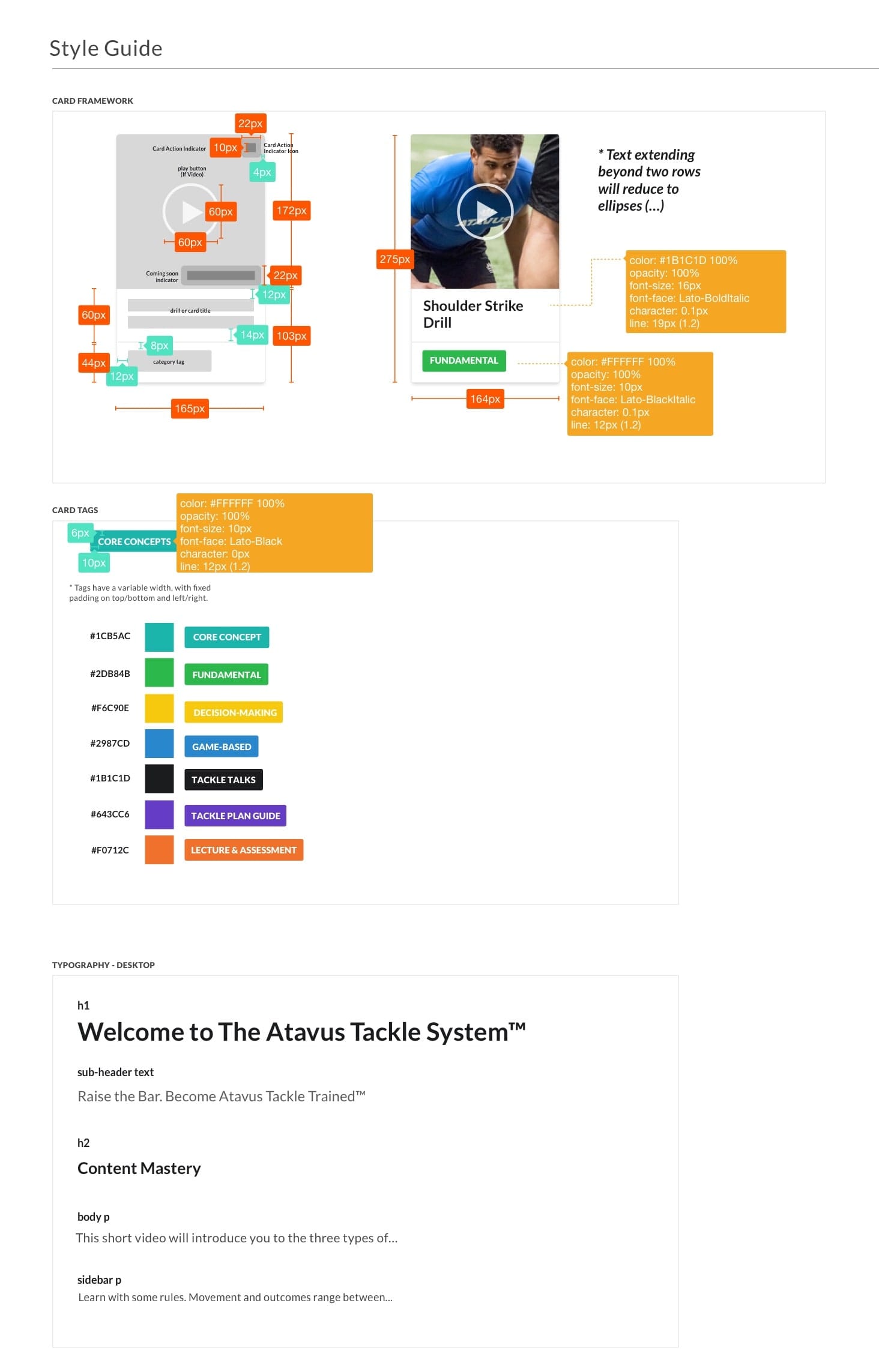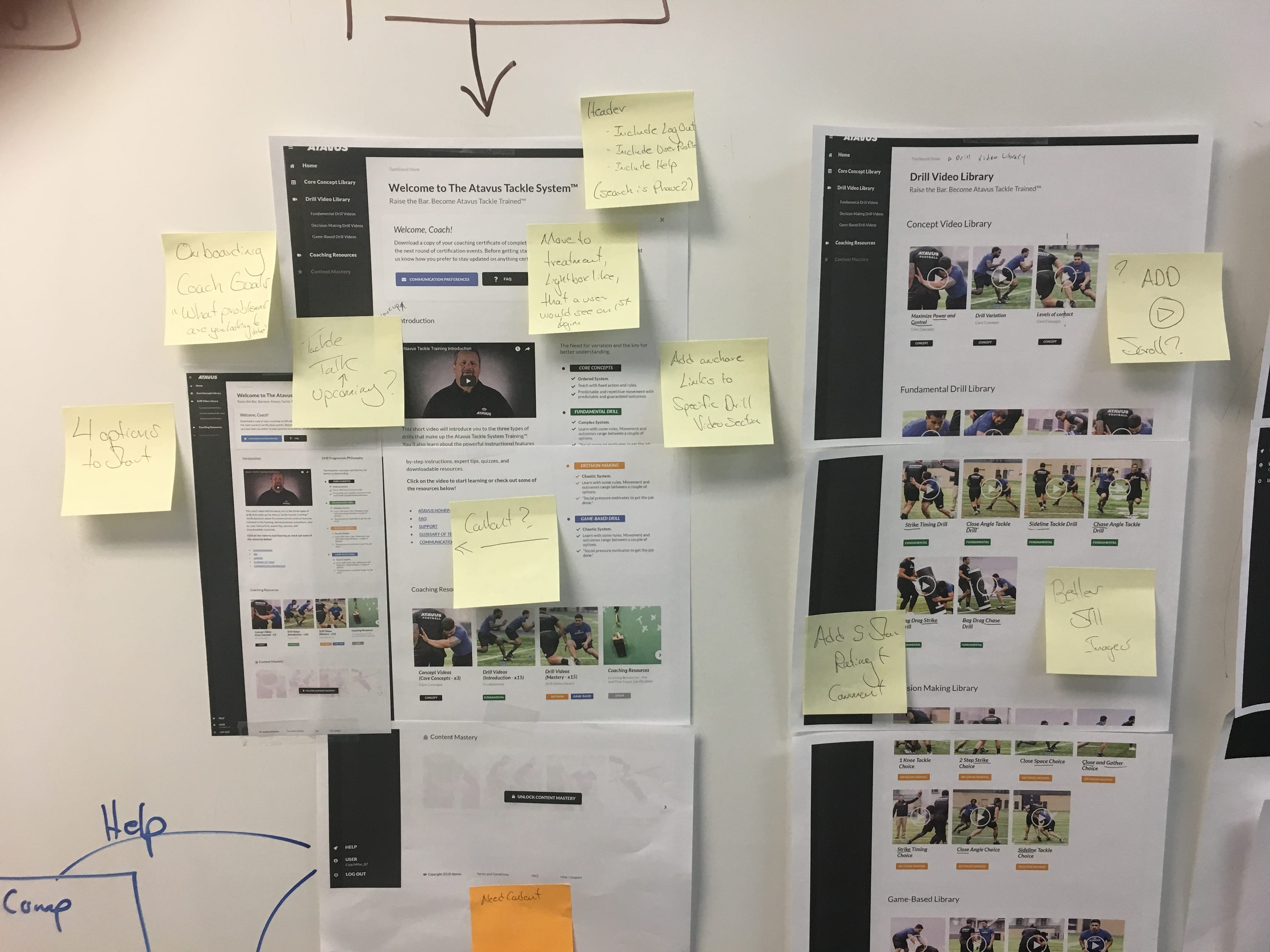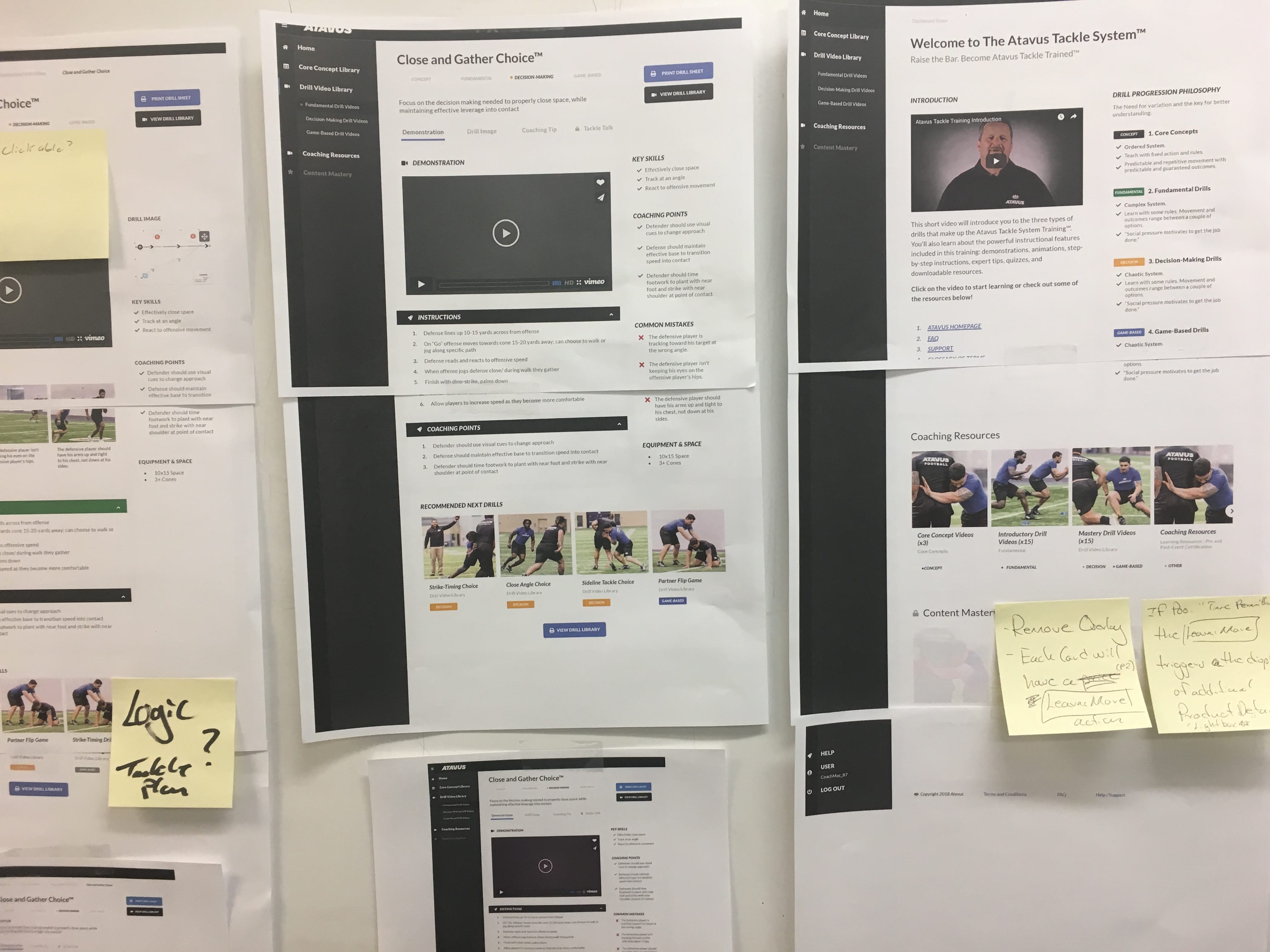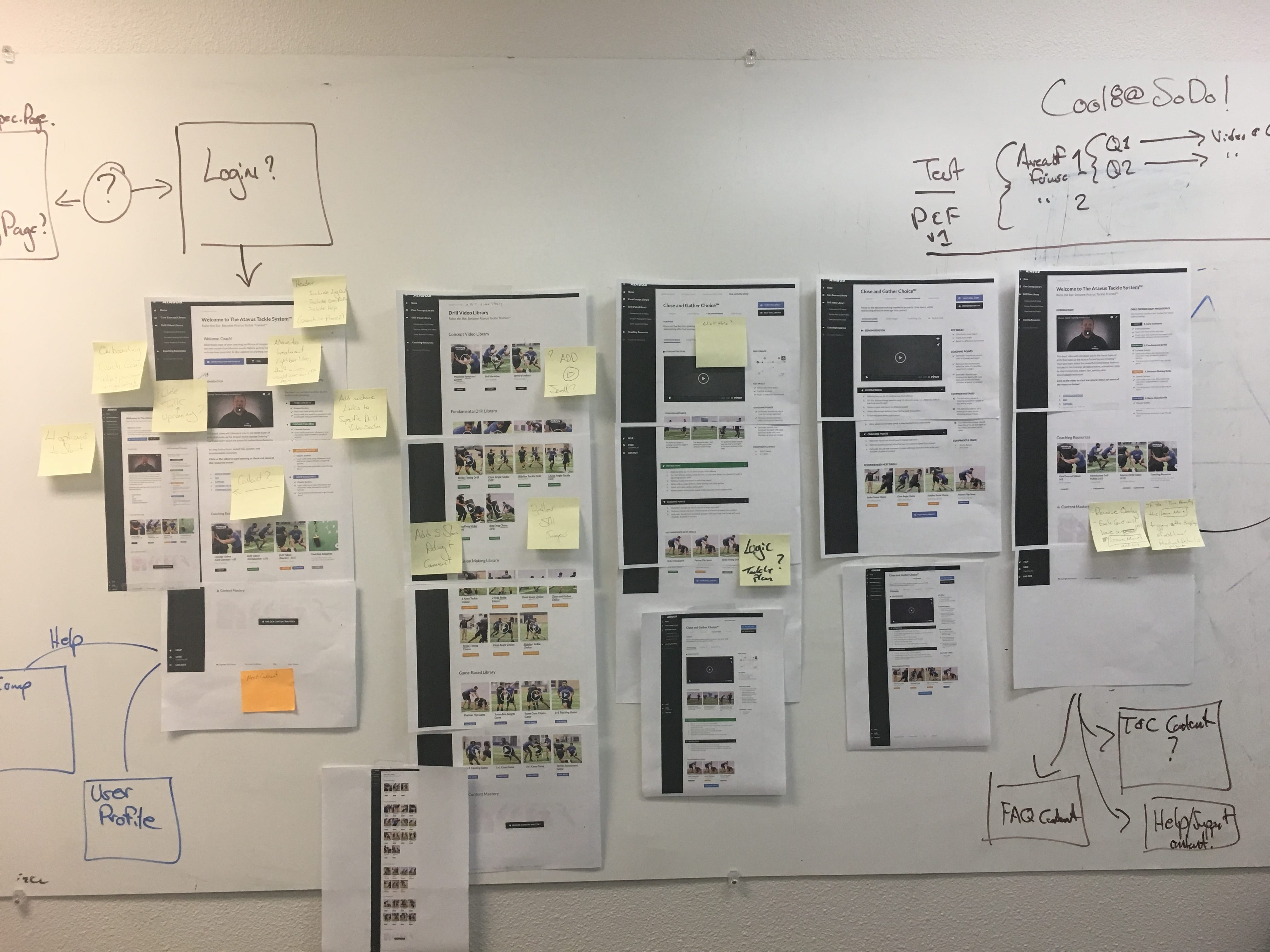 Execution
Putting all the pieces together
We executed on our dedication to agile scrum planning using agile methodologies with scrum and regular design check-ins with product ownership. We locked down the designs early into the development cycle starting with the main screens of the app over several iterations as the customer requirements changed. We eventually completed all the sub-pages as well as registration and login flows, error messaging and non-functional requirements. In our scrum processes, changing expectations and design criteria proved to be effortless.
We were able to design, test refine several times as development built out the core functionality and feature-set, eventually locking down what was to be the final product, a responsive learning management system dedicated to educating coaches and provide supplemental resources to empower coaches to bring a safer more effective tackling technique onto the field.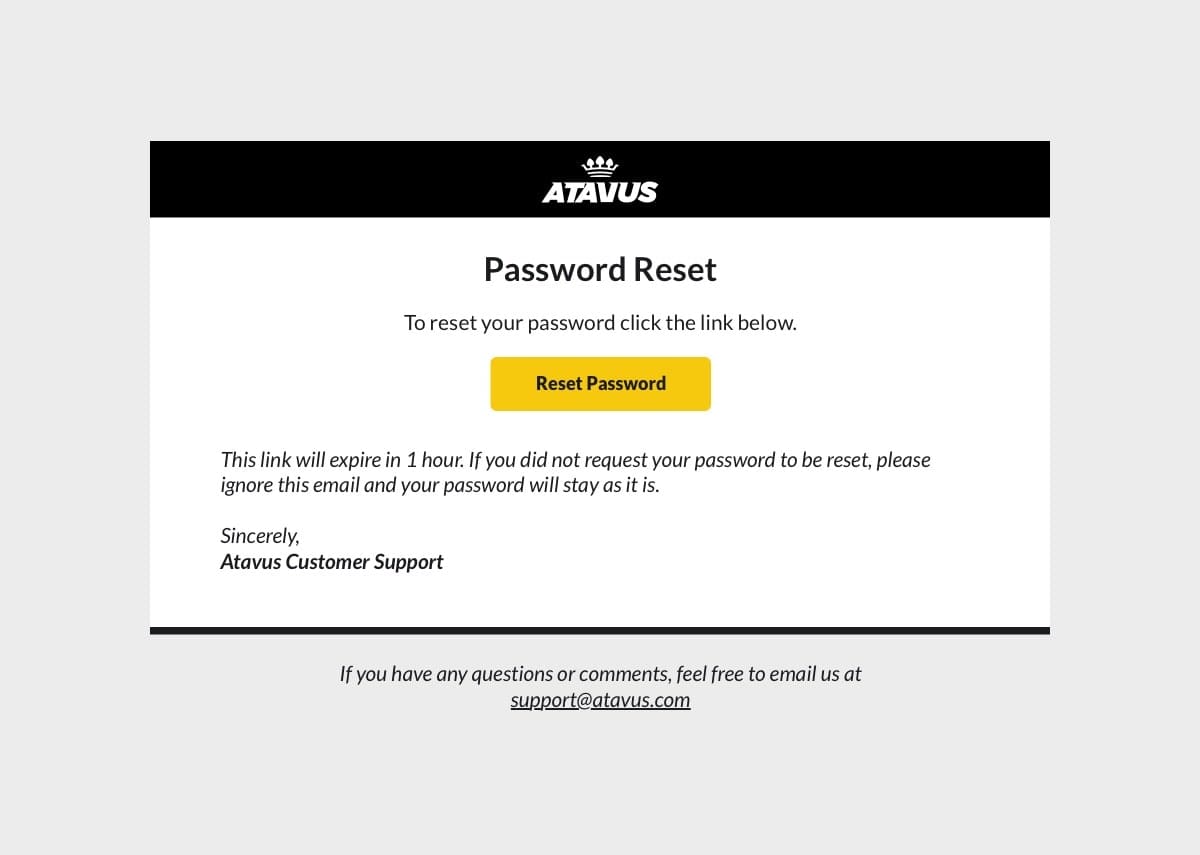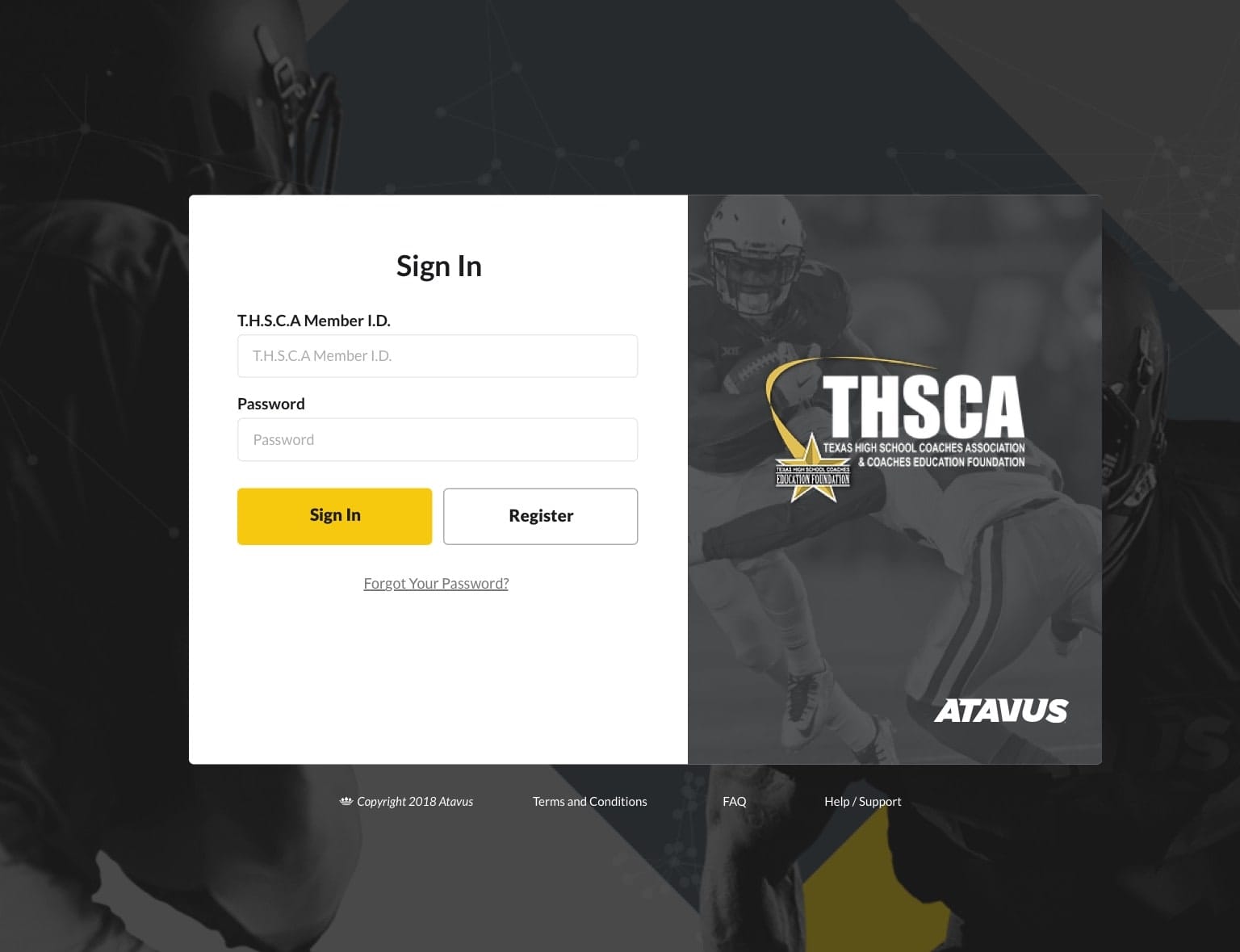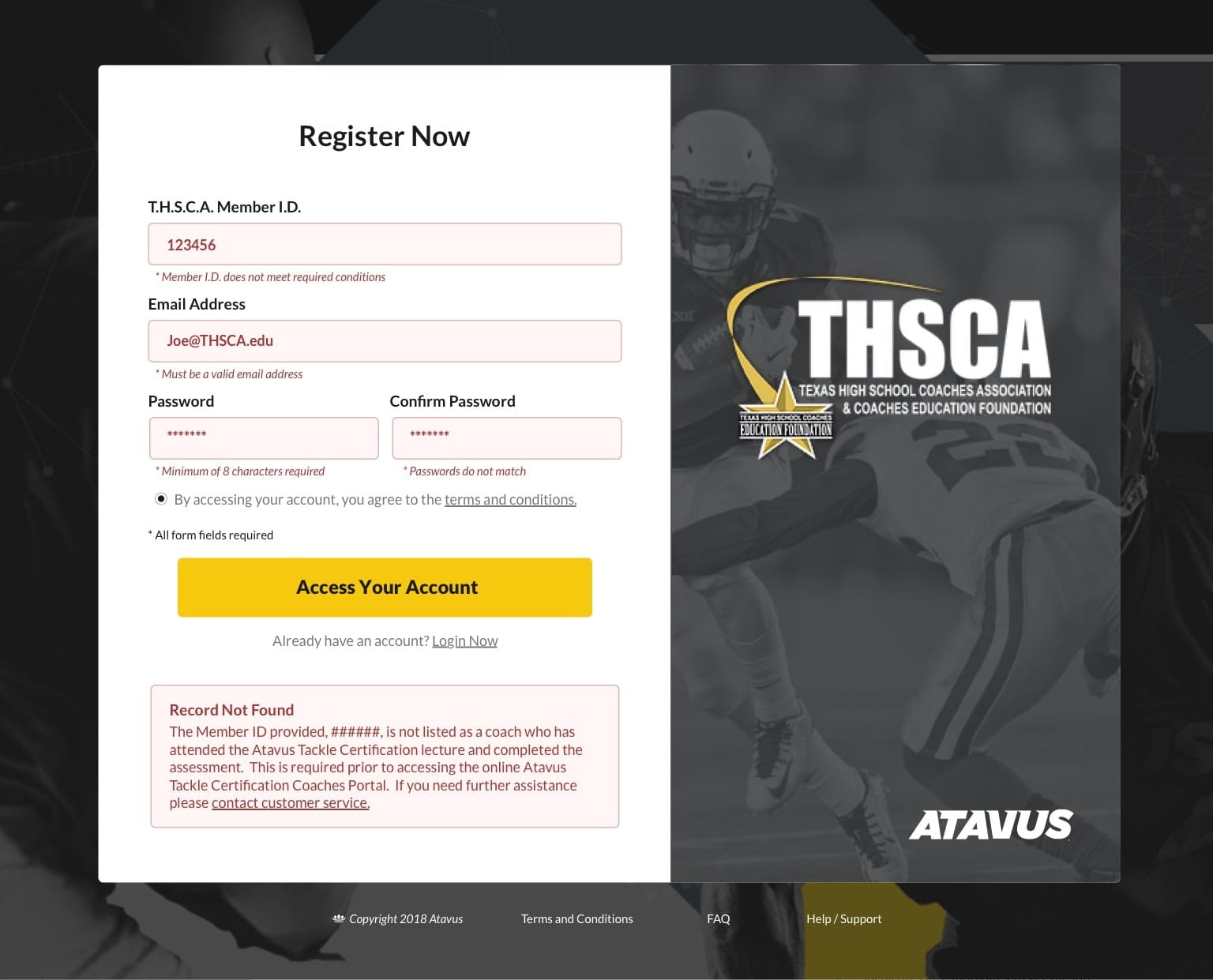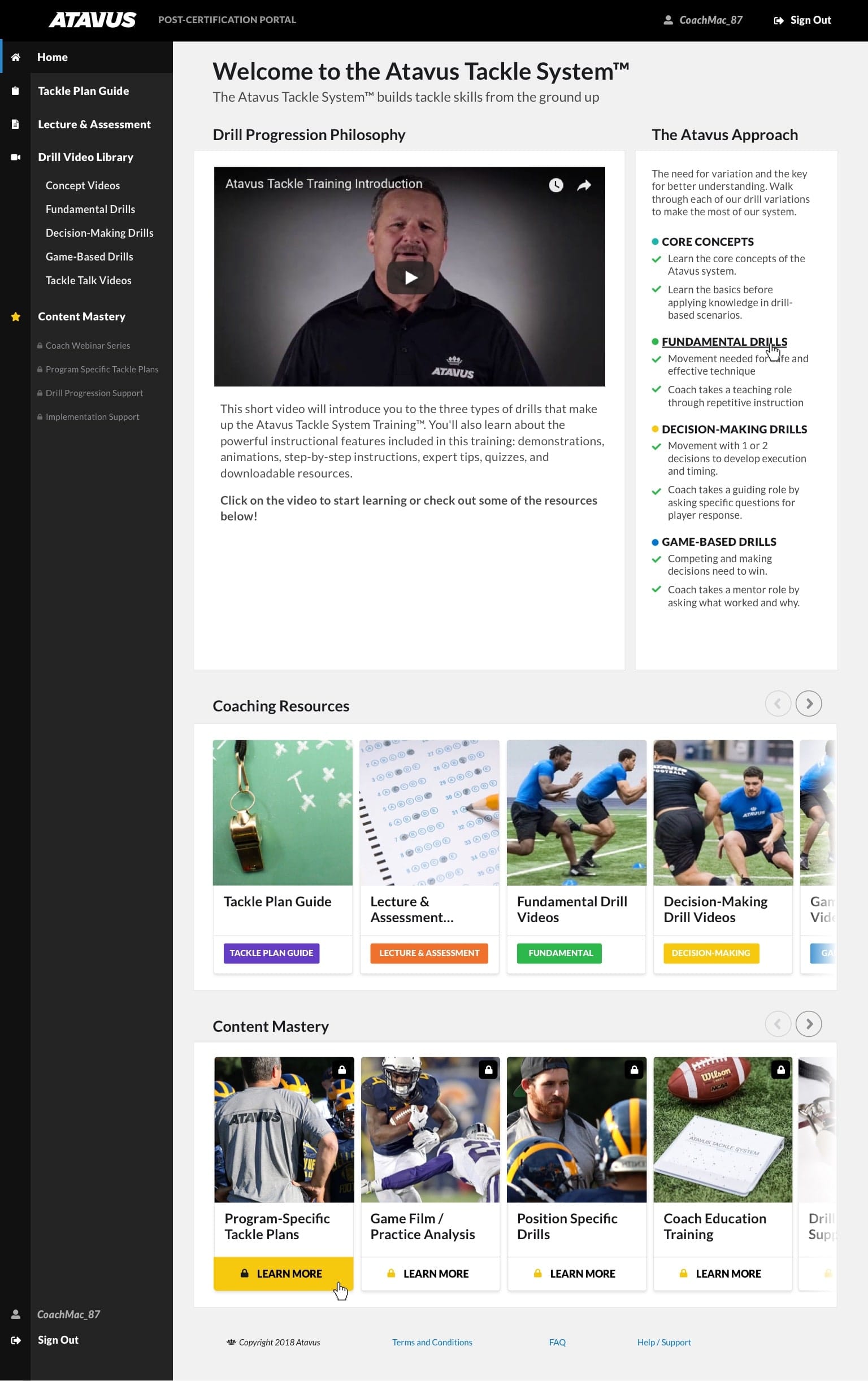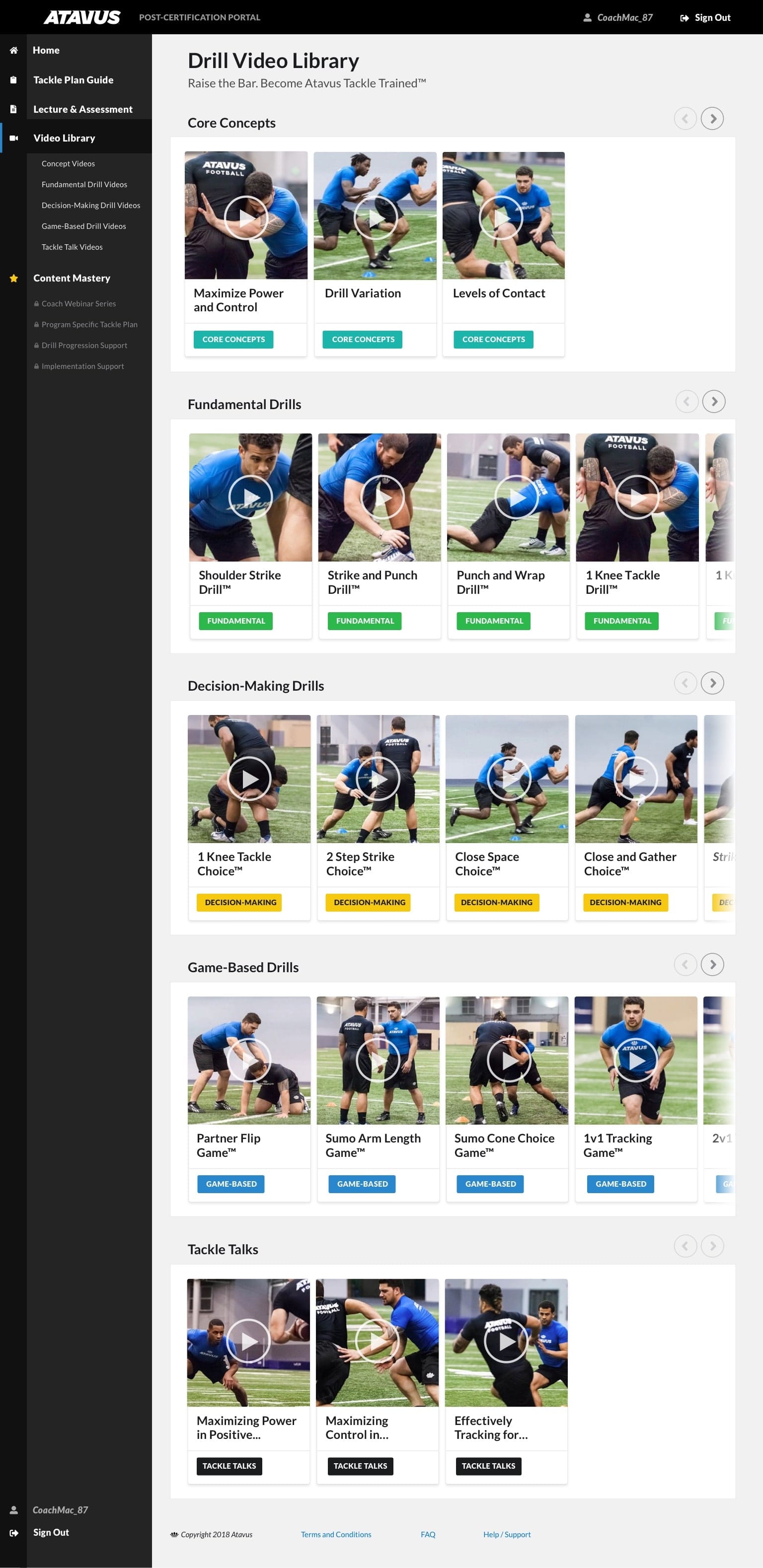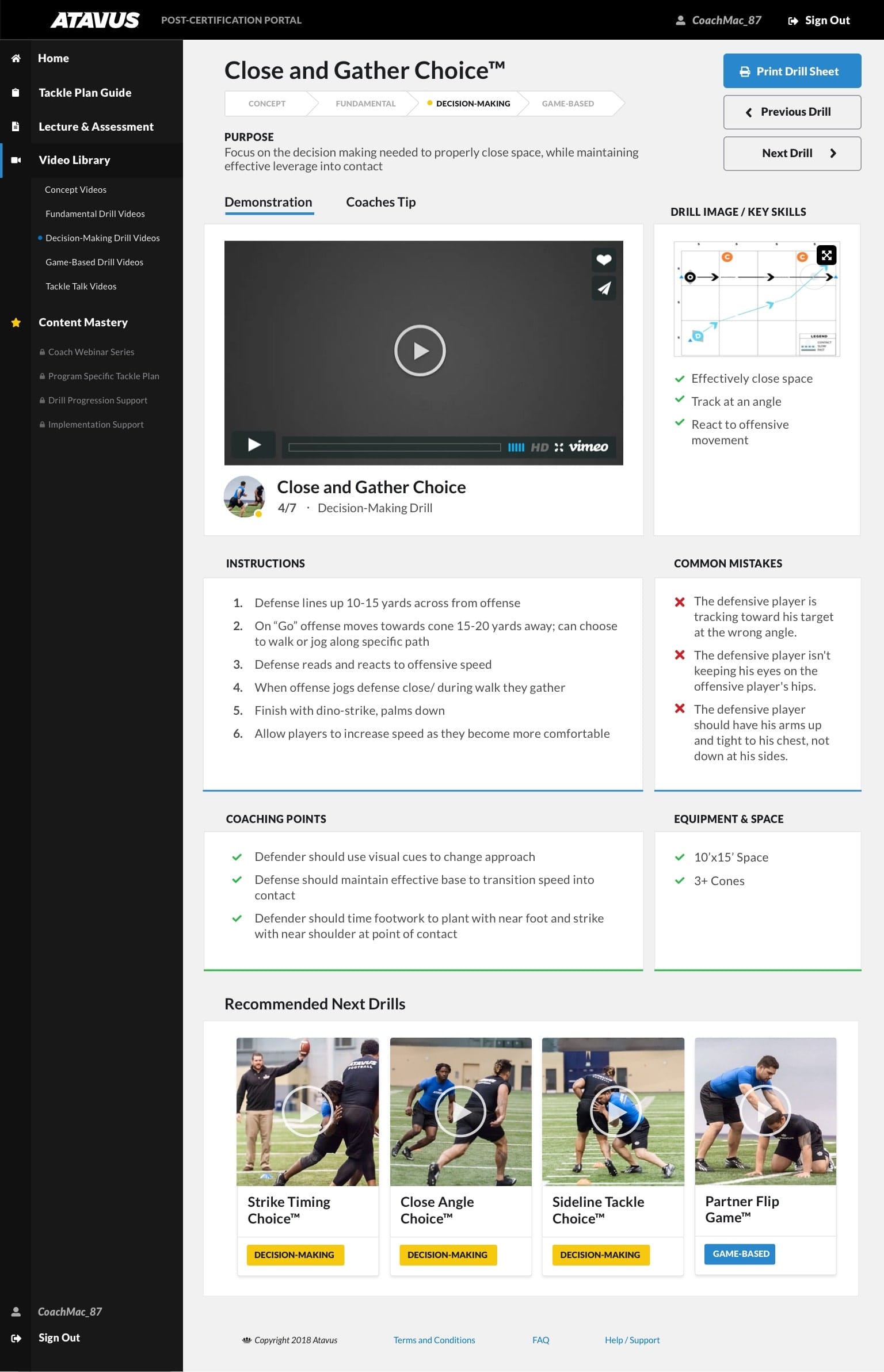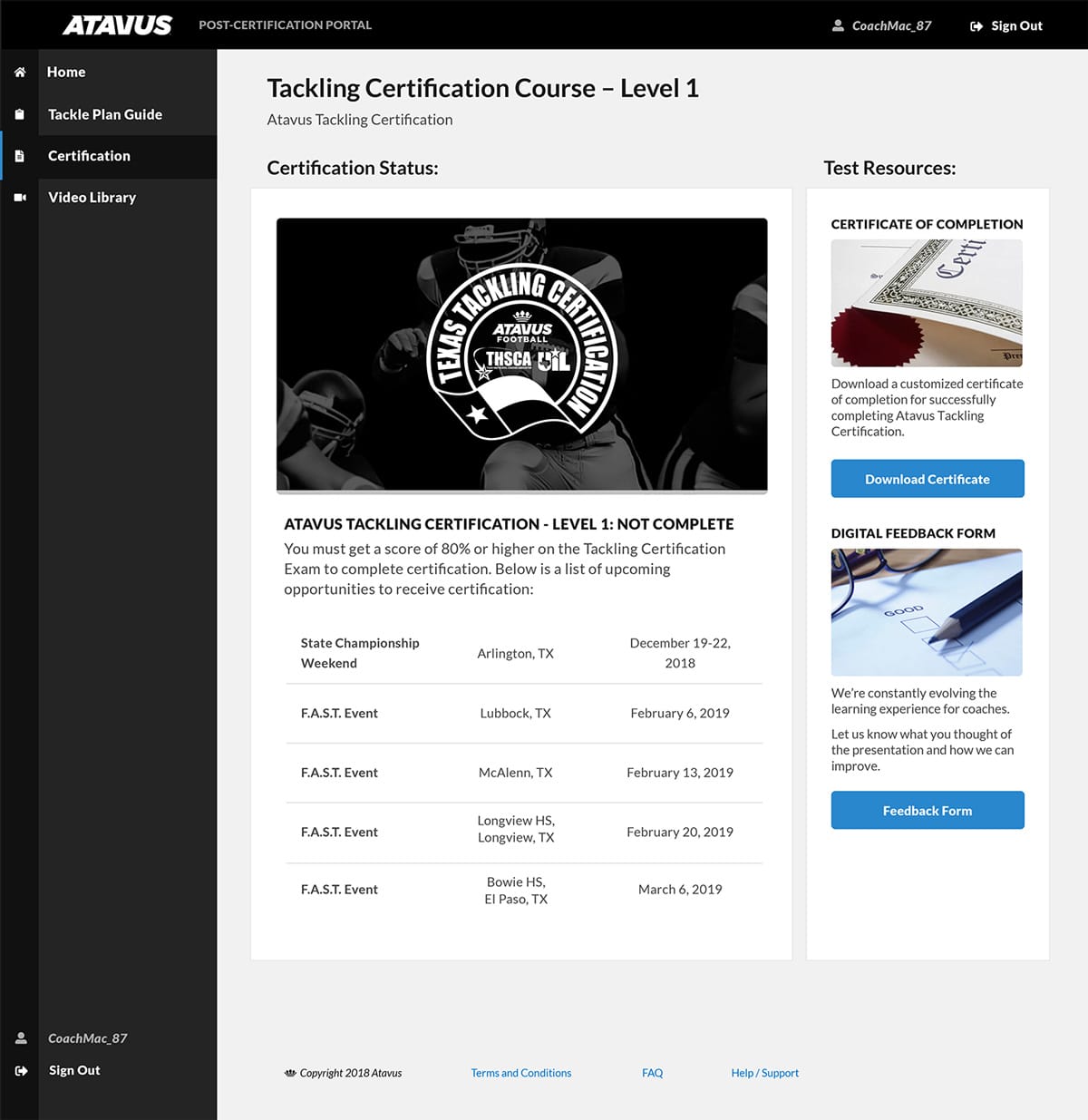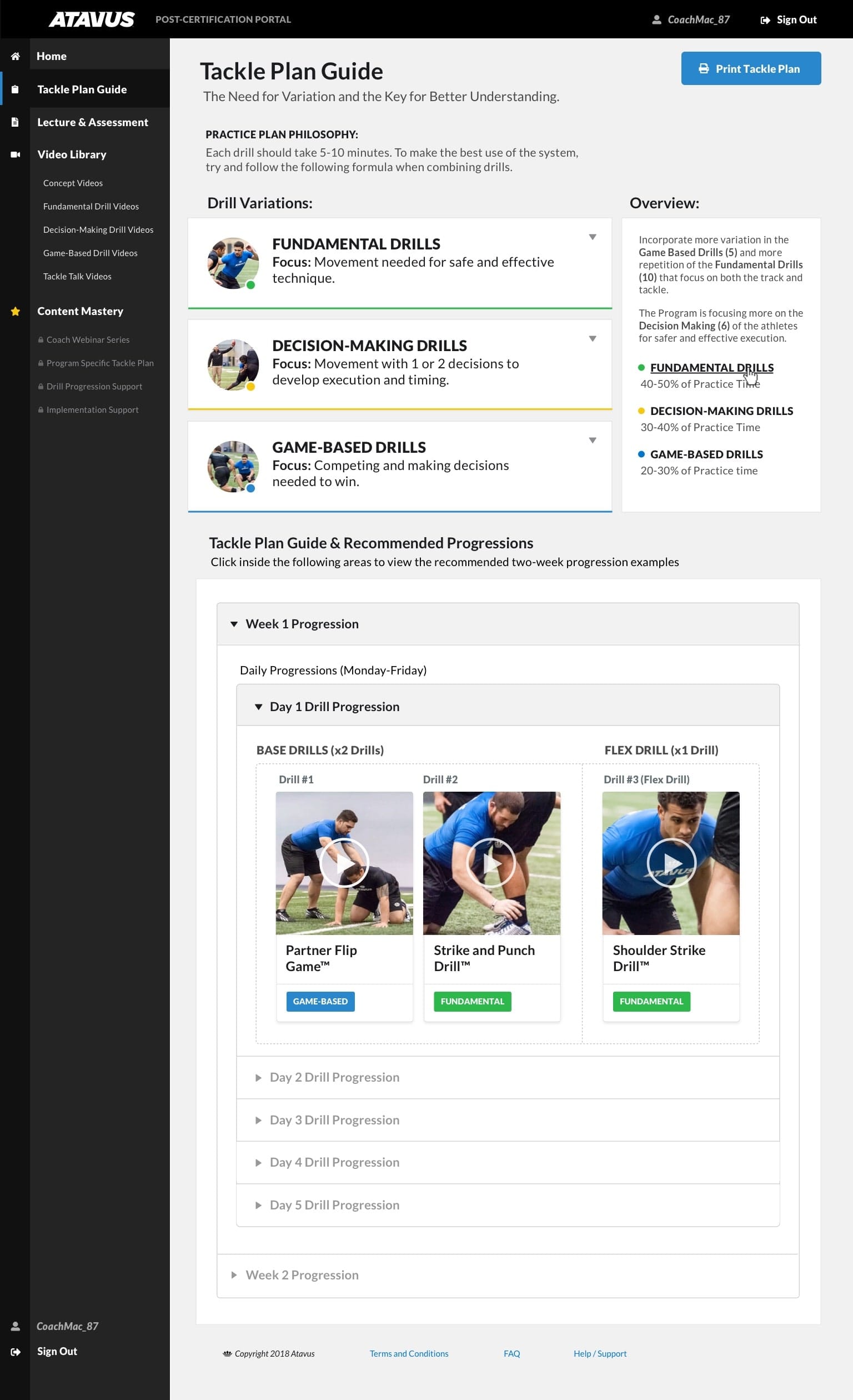 Feedback / Conclusion
While we launched our product successfully to the market, receiving useful feedback as far as what works well and what could be improved, I wasn't able to continue working at atavius long after the launch to pursue a life in another state.
The product continues to disrupt the high-school football product market, offering something that no other company has been able to do yet. Our unique combination of coaching talent, player knowledge and cross-sport rugby and football techniques marry together to form something truly incredible and unique to the game of football. The atavius mission is rooted in improving a dying game and eliminating the risks associated with the game that continue to result in the decline of participation at all levels of the game.